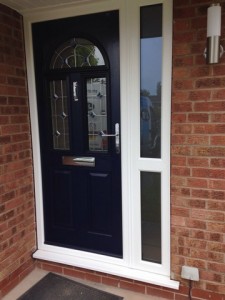 We offer a wide variety of uPVC doors for any doorway style or purpose. We have a wide range of front and rear entrance doors, internal and external patio and French doors and even bi-folding and sliding doors! Like our windows, we can offer a multitude of coloured finishes and styles to match your needs and can even tailor each door to your specific requirements, from handles, to door knockers, glass styles and patterning, even letter boxes can be chosen to suit your specific tastes. There are a multitude of combinations to choose from to suit virtually any budget and we will be more than happy to assist you with choosing what is right for your specific needs.
Like our windows, our doors not only look the best but we only use materials of the highest of quality. All of our doors are constructed to the highest of standards featuring the latest innovations in locking technology. Our doors don't just provide a locking point at the point of key entry, but we install doors that have up to a seven point locking mechanism based around the frame of the door giving excellent strength and security, making them virtually impenetrable from the outside when locked.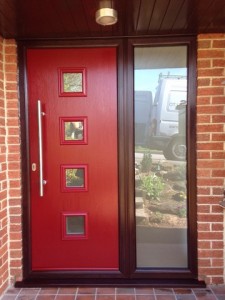 Energy efficiency too is another key added benefit of upgrading your doors to modern uPVC. Like windows, uPVC doors are excellent insulators and minimise heat loss through convection by providing a seal to the outside. Draughts are eliminated and noise is drastically reduced because of the nature of the materials used but also because there is no air to carry the sound.
Ultimately a new uPVC door provides vastly improved security, energy efficiency and noise reduction over traditional and even older uPVC type doors. If you require a anything from a half glazed door to the top of the range solid wood composite, then J&B Windows should be your first port of call.
If you are looking for doors in Derby, then look no further. All of our services are provided in Derby and the surrounding areas.
Below are examples of our work. Please click the image to view the larger version.